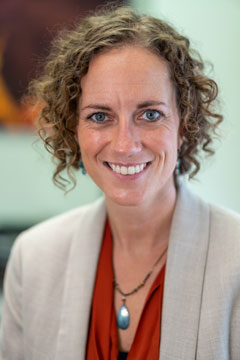 While she treats a variety of chronic and acute conditions in both children and adults, Dr. Grise is especially passionate about helping children, adolescents, and young adults struggling with mental and emotional concerns. She brings a warm, non-judgemental approach to her patients, showing compassion and understanding during their most difficult times.
Dr. Grise has a special interest in helping members of the LGBTQI (lesbian, gay, bisexual, transgender, queer, questioning, and intersex) community who are looking for an open-minded and welcoming environment for their healthcare.
Dr. Grise is a licensed naturopathic physician with a special focus in the integrative treatment of mental illness including depression, anxiety, bipolar disorder and more. She is among the most highly trained homeopathic doctors in the United States, having completed a one-year general medicine residency followed by an esteemed second-year homeopathy focused residency at the Southwest College of Naturopathic Medicine under the supervision of Dr. Stephen Messer.
Dr. Grise is a member of the National Center for Homeopathy, The Arizona Naturopathic Medical Association, and the Arizona Gay and Lesbian Chamber of Commerce. She is also adjunct clinical faculty at SCNM, helping to educate and empower the next generation of Naturopathic Physicians. She enjoys hiking, reading, and spending time with her partner and their friends and family in her spare time.